Dave Elder - Musician for Peace
A Jolly Rocker Spokesman for Progressive Values
"Dave's music is off-beat, very eclectic, folksy, delivered with a wonderful sense of timing and a great sense of humor."
-Chris Poh, from radio station WDVR
Folk, rock, blues and country mark the 4 main points of Dave's musical compass, but the listener might pick up a hint of gospel, jazz or even classical flavor here and there. Dave Elder is a dynamic and engaging singer-songwriter-performer with a unique point of view.
Dave's August 2018 SoundCloud Song
(Saturday, 8/4/18) Today Dave posted Drive Me to Distraction as his August 2018 SoundCloud track, and you can hear it by clicking on the title, or on the image above. This Elder Street ramble might fit in well with summer travels.
Dave Elder's Favorite Songs Playlist
(Sunday, 8/12/18) Song 420: I Can't Help It (If I'm Still In Love With You) by Hank Williams, who also wrote the song. You can find a YouTube video of it here. As Dave says . . . The Ohio relatives' extensive country music collection introduced me to Hank, as well as other classic artists of the 1950s and 1960s, and I found Mr. Williams quite impressive. At some point in the 1960s, I watched a move about . . . Read more
The Voting Results
Voting ended Sunday, 1/7/18, and while Under the Table did not make the Coast 2 Coast Best of NY, it does appear in #WeWorkin Mixtape Vol. 647. Thanks to everyone who voted for Dave, and you can check out the song and its role in the mixtape by clicking on the title, or on the image below. If, after you get to the C2C page, the song doesn't start playing, as sometimes happens, just refresh the page and then the song will play.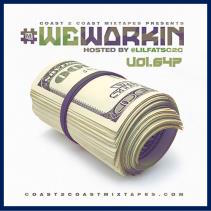 Dave's Now Officially a Rock Star
(Tuesday, 3/12/17) In early January Coast 2 Coast released its #Rockstars Mixtape Volume 14 with If I Was You taking a prominent slot as track 22, later moving up to number 21, to 20, and then today to number 19. You can find that post here. No further proof of rock star status should be required, although more may be on the way. If, after you get to the C2C page, the song doesn't start playing, as sometimes happens, just refresh the page and then the song will play.
Dave's Video in the News
(Wednesday, 11/22/17) Today a story about the If I Was You YouTube video appeared in a newspaper, and you can check out that write-up here. Earlier in the year, back in April, another article about the video was printed in a different newspaper, and you can check out that account here.
(Sunday, 7/2/17) In light of a recent story about DJT, Dave decided that if the U.S. president can do this, then he could too, and so, if you ever wondered what Dave might look like on the cover of Time, this should answer the question. If you'd like to see a bigger version of this, you can find one in the Photos section on Dave's Facebook page here.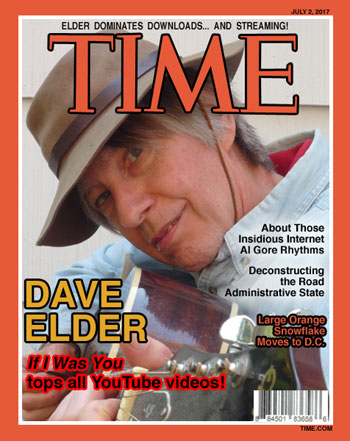 Dave on Spotify
(Saturday, 4/15/17) After creating his first Spotify playlist in early February called Dave Elder's Favorite Anti-war Songs, in late March Dave started a second Spotify playlist, this one called Me and My Songwriter Friends, and today he got that playlist over the critical 20-song mark. Dave plans to use this playlist to showcase the work of some good friends who are also fellow songwriters, including Jeff Larson, Patti Rothberg, Joe Canzano and Carol Denney. You can check out either of Dave's Spotify playlists by clicking on the name. You can also listen to all, or any part, of Who Said What, and/or Elder Street, on Spotify, and you can find those CDs there just by clicking on the names. Country Drivin' should be appearing on Spotify one of these days as well, and the link will be here as soon as it is.
Dave Elder's Jukebox
You can also hear Dave's music right here courtesy of Dave's jukebox, which includes 7 tracks from Who Said What plus a few cuts from Elder Street and Country Drivin'. Just click on the jukebox and take your pick. You can listen as long as you have the little jukebox window open, even if you leave this website.
That's Dave on the right, with Jeff Larson (middle) and Craig Rigglesford (left) in Big Sur, many years ago.